Seat heater (if equipped)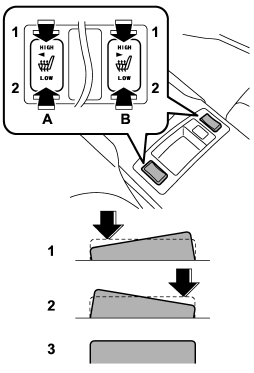 1) HIGH – Rapid heating 2) LOW – Normal heating
3) OFF – Off
A) Left-hand side
B) Right-hand side
The seat heater operates when the ignition switch is either in the "Acc" or "ON" position.
To turn on the seat heater, press the "LOW" or "HIGH" position on the switch, as desired, depending on the temperature. Selecting the "HIGH" position will cause the seat to heat up quicker.
To turn off the seat heater, slightly press the opposite side of the current position. The indicator located on the switch illuminates when the seat heater is in operation. When the vehicle's interior is warmed enough or before you leave the vehicle, be sure to turn the switch off.
CAUTION
● There is a possibility that people with delicate skin may suffer slight burns even at low temperatures if they use the seat heater for a long period of time. When using the heater, always be sure to warn the persons concerned.
● Do not put anything on the seat which insulates against heat, such as a blanket, cushion, or similar items. This may cause the seat heater to overheat.
NOTE
Use of the seat heater for a long period of time while the engine is not running can cause battery discharge.
See also:
Headlight flasher
To flash the headlights, pull the lever toward you and then release it. The high beam will remain on for as long as you hold the lever. The headlight flasher works even though the light switch is in ...
Forward and backward adjustment
Forward and backward adjustment Pull the lever upward and slide the seat to the desired position. Then release the lever and move the seat back and forth to make sure that it is securely lock ...
Lubrication oil circulation in the refrigerant circuit
Operate the air conditioner compressor at a low engine speed (at idle or low driving speeds) a few minutes each month during the off-season to circulate its oil. ...