Seat height adjustment (driver's seat)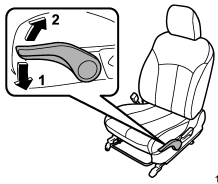 1) When the lever is pushed down, the seat is lowered.
2) When the lever is pulled up, the seat rises.
The height of the seat can be adjusted by moving the seat cushion adjustment lever up or down.
See also:
2.5 L turbo models
1) Power steering fluid reservoir (page 11-27) 2) Manual transmission oil level gauge (page 11-23) 3) Clutch fluid reservoir (page 11-29) 4) Brake fluid reservoir (page 11-28) 5) Fuse box (page ...
Safety symbol
You will find a circle with a slash through it in this manual. This symbol means "Do not", "Do not do this", or "Do not let this happen", depending upon the context. ...
Door open warning light
The door open warning light illuminates if any door or the rear gate is not fully closed. Always make sure this light is not illuminated before you start to drive. ...