Light control and wiper control levers/switches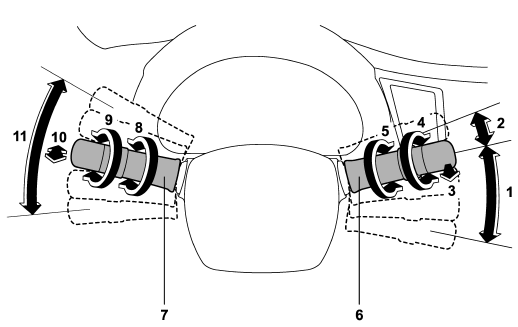 1) Windshield wiper (page 3-31) 2) Mist (page 3-32)
3) Windshield washer (page 3-33) 4) Rear window wiper and washer switch (page 3-34) 5) Wiper intermittent time control switch (page 3-33) 6) Wiper control lever (page 3-32) 7) Light control switch (page 3-27) 8) Front fog light switch (page 3-30) 9) Headlight ON/OFF/AUTO (page 3-28) 10) Headlight flasher High/Low beam change (page 3-28) 11) Turn signal lever (page 3-29)
See also:
Rear seats
Rear seats Seatbelts provide maximum restraint when the occupant sits well back and upright in the seat. Do not put cushions or any other materials between occupants and seatbacks or seat cushion ...
Compass calibration
1. If a "C" is displayed in the compass window, the compass needs to be calibrated. 2. Drive the vehicle in a circle at 5 mph (8 km/h) or less until the display reads a direction. 3. You can also ...
Checking the oil level
Check the engine oil level at each fuel stop. 1. Park the vehicle on a level surface and stop the engine. If you check the oil level just after stopping the engine, wait a few minutes for the oil t ...