Instrument panel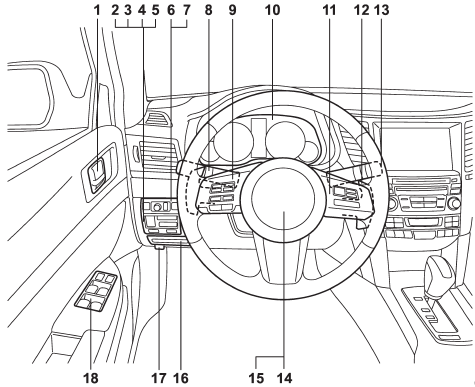 1) Door locks (page 2-4) 2) Electronic parking brake switch (page 7-34) 3) Hill Holder switch (page 7-36) 4) Trunk lid opener switch (page 2-24) 5) Vehicle Dynamics Control OFF switch (page 7-31) 6) Remote control mirror switch (page 3-51) 7) Illumination brightness control (page 3-30) 8) Light control switch (page 3-27) 9) Audio control buttons (page 5-31) 10) Combination meter (page 3-5) 11) Cruise control (page 7-38) 12) Paddle shift (page 7-22) 13) Wiper control lever (page 3-31) 14) Horn (page 3-52)
15) SRS airbag (page 1-38) 16) Fuse box (page 11-46) 17) Hood lock release knob (page 11-7) 18) Power windows (page 2-20)
See also:
Fuel economy hints
The following suggestions will help to save your fuel. ● Select the proper gear position for the speed and road conditions. ● Avoid sudden acceleration or deceleration. Always accelerate ...
Unleaded gasoline
The neck of the fuel filler pipe is designed to accept only an unleaded gasoline filler nozzle. Under no circumstances should leaded gasoline be used because it will damage the emission control sy ...
California fuel
If your vehicle was certified to California Emission Standards as indicated on the underhood tune-up label, it is designed to optimize engine and emission control system performance with gasoline ...