Abbreviation list
You will find several abbreviations in this manual. The meanings of the abbreviations are shown in the following list.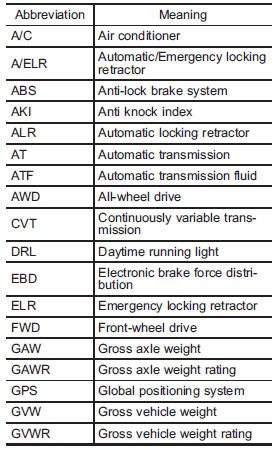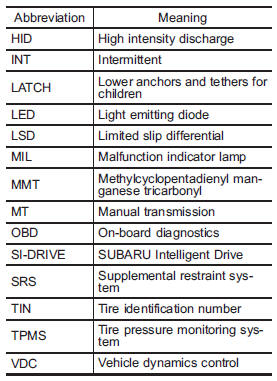 See also:
2012 Subaru Impreza review
The redesigned 2012 Subaru Impreza's most compelling attributes are evident before you even start the engine. Take a glance and you'll see more mature styling in both the sedan and four-door hatch ...
Outback 2.5i, 2.5i Special Edition & 2.5i Limited
For the best mileage, the 2.5i manual is your best bet, rated at 20/27 mpg city/highway. Along with 1 mpg better highway mileage, the five-speed stick will help you get better acceleration out of ...
Connectable USB storage device
Mass storage class USB memory can be connected. USB storage devices that can be played back are accompanied by the following restrictions. - Maximum directory layers: 8 layers (including the ...