Manual transmission – 5 speeds (except STI)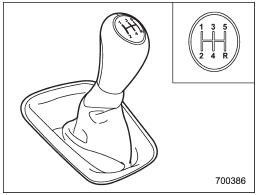 The manual transmission is a fully synchromeshed, 5-forward-speed and 1-reverse- speed transmission.
The shift pattern is shown on the shift lever knob. When shifting from 5th gear to reverse gear, first return the shift lever to the neutral position then shift into reverse gear.
To change gears, fully depress the clutch pedal, move the shift lever, and gradually let up on the clutch pedal.
If it is difficult to shift into gear, put the transmission in neutral, release the clutch pedal momentarily, and then try again.

• Do not drive the vehicle with the clutch disengaged (i.e., when the clutch pedal is depressed) or with the shift lever in the neutral position. Engine braking has no effect in either of these conditions and the risk of an accident is consequently increased.
• Do not engage the clutch (i.e., release the clutch pedal) suddenly when starting the vehicle.
By doing so the vehicle might unexpectedly accelerate or the transmission could malfunction.

Shift into reverse ONLY when the vehicle has completely stopped. It may cause damage to the transmission to try shifting into reverse when the vehicle is moving.
See also:
Control panel
Control panel 1) Temperature control dial 2) Fan speed control dial 3) Airflow control dial 4) Control switch of the defogger and deicer system (Refer to "Defogger and deicer".) 5) Air in ...
Installing a rearward facing child restraint
Installing a rearward facing child restraint 1. Place the child restraint system in the rear seating position. 2. Run the lap and shoulder belt through or around the child restraint system following ...
START
CAUTION Do not turn the ignition switch to the "START" position while the engine is running. The engine is started in this position. The starter cranks the engine to start it. When the key is rele ...