To remove the cover
1. Rewind the cover.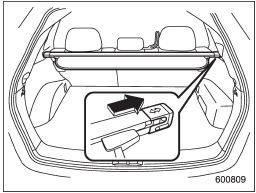 2. Push the bar to the right side and shorten the bar.
3. Take it off the retainer.
See also:
Security setting - Setting PIN code
The PIN code is a 4-digit number and is used when locking the phonebook. 1. Select the "SET PIN" menu. Then "CURRENT PIN?" is displayed. 2. Input the current PIN code by operating the "TUNE/TR ...
Before driving your vehicle
Before entering the vehicle, remove any snow or ice from your shoes because that could make the pedals slippery and driving dangerous. While warming up the vehicle before driving, check that the acce ...
Setting guidance volume
To set the guidance volume, perform the following procedure. 1. Select the "GUIDANCE VOL"/"GUIDANCE VOLUME" menu. 2. Set the guidance volume by operating the "TUNE/TRACK/CH" dial. ...