SI-DRIVE indicator light (STI)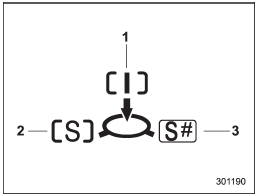 1) Intelligent (I) mode
2) Sport (S) mode
3) Sport Sharp (S#) mode
This light indicates the current SI-DRIVE mode.
For details of SI-DRIVE mode, refer to "SIDRIVE (STI)".
See also:
Sound controls and audio settings
NOTE - SPEED VOLUME CONTROL is a function that automatically adjusts the volume according to the vehicle speed. As the vehicle speed increases, the audio volume automatically increases to m ...
Winter driving
...
Keys
1) Master key 2) Submaster key 3) Valet key 4) Key number plate 5) Security ID plate Three types of keys are provided for your vehicle: Master key, submaster key and valet key. The master key ...