Security indicator light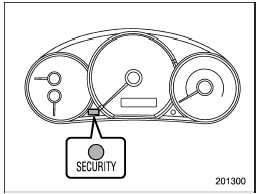 Turbo models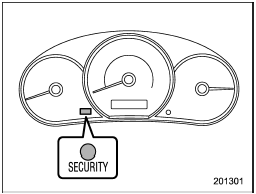 Non-turbo models
The security indicator light deters potential thieves by indicating that the vehicle is equipped with an immobilizer system. It begins flashing (approximately once every 3 seconds) approximately 60 seconds after the ignition switch is turned from the "ON" position to the "Acc" or "LOCK" position or immediately after the key is pulled out.
If the security indicator light does not flash, the immobilizer system may not be functioning properly. If this occurs, contact your SUBARU dealer as soon as possible.
In case an unauthorized key is used (e.g., an imitation key), the security indicator light illuminates.
NOTE
• For the flashing pattern when arming the alarm system, refer to "Arming the system".
• Even if the security indicator light flashes irregularly or its fuse blows (the light does not flash if its fuse is blown), the immobilizer system will function normally.
See also:
Replacing the battery
CAUTION ● Do not let dust, oil or water get on or in the transmitter when replacing the battery. ● Be careful not to damage the printed circuit board in the transmitter when replacing ...
Random playback
Type A audio Type B audio To play back a track/file(s) at random, press the "RPT/RDM" button for 0.5 second or longer (type A audio) or press the "RDM" button (type B audio). ● For type ...
Fuel octane rating
This octane rating is the average of the Research Octane and Motor Octane numbers and is commonly referred to as the Anti Knock Index (AKI). Using a gasoline with a lower octane rating can ca ...