Gross Axle Weight (GAW) and Gross Axle Weight Rating (GAWR)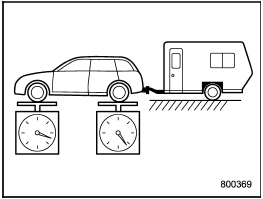 Gross Axle Weight
The total weight applied to each axle (GAW) must never exceed the Gross Axle Weight Rating (GAWR). The front and rear GAWs can be adjusted by relocating passengers and luggage inside the vehicle.
The front and rear GAWR are also shown on the certification label.
To check both GVWR and GAWR and to confirm that the total weight and weight distribution are within safe driving limits, you should have your vehicle and trailer weighed at a commercial weighing station.
Be sure that all cargo is firmly secured to prevent a change in weight distribution while driving.
See also:
Drugs and driving
There are some drugs (over the counter and prescription) that can delay your reaction time and impair your perception, judgment and attentiveness. If you drive after taking them, it may increase yo ...
Trailer lights
CAUTION Direct splicing or other improper connection of trailer lights may damage your vehicle's electrical system and cause a malfunction of your vehicle's lighting system. Connection of trailer ...
Setting guidance volume
To set the guidance volume, perform the following procedure. 1. Select the "GUIDANCE VOL"/"GUIDANCE VOLUME" menu. 2. Set the guidance volume by operating the "TUNE/TRACK/CH" dial. ...