Gross Axle Weight (GAW) and Gross Axle Weight Rating (GAWR)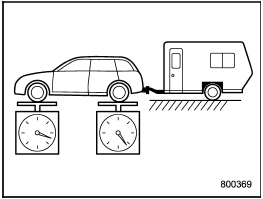 Gross Axle Weight
The total weight applied to each axle (GAW) must never exceed the Gross Axle Weight Rating (GAWR). The front and rear GAWs can be adjusted by relocating passengers and luggage inside the vehicle.
The front and rear GAWR are also shown on the certification label.
To check both GVWR and GAWR and to confirm that the total weight and weight distribution are within safe driving limits, you should have your vehicle and trailer weighed at a commercial weighing station.
Be sure that all cargo is firmly secured to prevent a change in weight distribution while driving.
See also:
Outback
A shopping bag hook is attached to each side of the cargo area. To use the hook, push the upper portion and the shopping bag hook will appear. ...
Changing the voice tag of the cell phone
1. Select the "CHANGE NAME" menu. If no cell phones are registered, "EMPTY" is displayed and the mode changes to the "PHONE SETUP" mode. 2. Select the cell phone by operating the "TUNE/TRACK/ ...
Trunk light (Legacy)
1. Push both sides of the light cover, and then remove the cover by pulling it out. 2. Pull the bulb out of the socket. 3. Install a new bulb. 4. Reinstall the cover. ...