Overhead console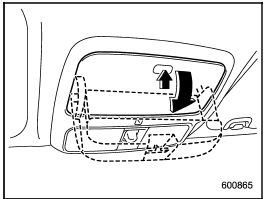 Overhead console
To open the console, push on the console lid lightly and the lid will automatically open.

When your vehicle is in the sun or on a warm day, the inside of the overhead console heats up. Avoid storing plastic or other heat-vulnerable or flammable articles such as a lighter in the overhead console.
See also:
Drugs and driving
There are some drugs (over the counter and prescription) that can delay your reaction time and impair your perception, judgment and attentiveness. If you drive after taking them, it may i ...
Fan speed control dial
Fan speed control dial The fan operates only with the ignition switch in the ON position. The fan speed control dial is used to select the AUTO (automatic control) mode or to select the desired fan s ...
SPEED VOLUME setting
SPEED VOLUME CONTROL is a function that automatically adjusts the volume according to the vehicle speed. As the vehicle speed increases, the audio volume automatically increases to match the vehicle s ...