Safety symbol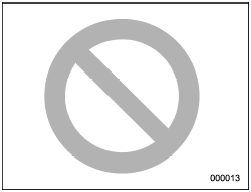 You will find a circle with a slash through it in this manual. This symbol means"Do not", "Do not do this", or"Do not let this happen", depending upon the context.
See also:
Refueling in cold weather
To help prevent moisture from forming in the fuel system and the risk of its freezing, use of an antifreeze additive in the fuel tank is recommended during cold weather. Use only additives that are s ...
Models with HID headlights
High Intensity Discharge (HID) headlights contain mercury. For that reason, it is necessary to remove HID headlights before vehicle disposal. Once removed, please reuse, recycle or dispos ...
Auto-dimming mirror with compass (if equipped)
1) LED 2) Switch 3) Sensor 4) Compass display The auto-dimming mirror has an anti-glare feature which automatically reduces glare coming from headlights of vehicles behind you. It also contain ...