Main fuse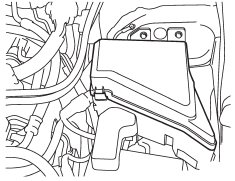 Main fuse box
The main fuses are designed to melt during an overload to prevent damage to the wiring harness and electrical equipment. Check the main fuses if any electrical component fails to operate (except the starter motor) and other fuses are good. A melted main fuse must be replaced. Use only replacements with the same specified rating as the melted main fuse. If a main fuse blows after it is replaced, have the electrical system checked by your nearest SUBARU dealer.
See also:
Wiper intermittent time control
When the wiper switch is in the "INT" position, turn the dial to adjust the operating interval of the wiper. The operating interval can be adjusted in five steps from the shortest interval to th ...
To remove the cover
1. Rewind the cover. 2. Push the bar to the right side and shorten the bar. 3. Take it off the retainer. ...
Rear center seating position
The head restraint is not intended to be used at the lowest position. Before sitting on the seat, raise the head restraint to the click position. 1) When not used (lowest position) 2) When us ...