Main fuse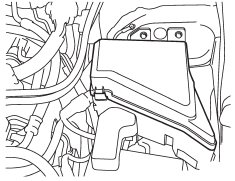 Main fuse box
The main fuses are designed to melt during an overload to prevent damage to the wiring harness and electrical equipment. Check the main fuses if any electrical component fails to operate (except the starter motor) and other fuses are good. A melted main fuse must be replaced. Use only replacements with the same specified rating as the melted main fuse. If a main fuse blows after it is replaced, have the electrical system checked by your nearest SUBARU dealer.
See also:
Road surface freeze warning indication
1) U.S.-spec. models 2) Except U.S.-spec. models When the outside temperature drops to 378F (38C) or lower, the temperature indication flashes to show that the road surface may be frozen. If th ...
Refueling
Only one person should be involved in refueling. Do not allow others to approach the area of the vehicle near the fuel filler pipe while refueling is in progress. Be sure to observe any other preca ...
Driving in foreign countries
When planning to use your vehicle in another country: - Confirm the availability of the correct fuel. Refer to "Fuel requirements". - Comply with all regulations and requirements of each coun ...