Wear indicators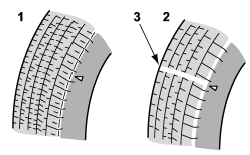 1) New tread
2) Worn tread
3) Tread wear indicator
Each tire incorporates a tread wear indicator, which becomes visible when the depth of the tread grooves decreases to 0.063 in (1.6 mm). A tire must be replaced when the tread wear indicator appears as a solid band across the tread.
WARNING
When a tire's tread wear indicator becomes visible, the tire is worn beyond the acceptable limit and must be replaced immediately. With a tire in this condition, driving at high speeds in wet weather can cause the vehicle to hydroplane. The resulting loss of vehicle control can lead to an accident.
NOTE
For safety, inspect the tire tread regularly and replace the tires before their tread wear indicators become visible.
See also:
Selecting reverse gear
1) Slider You must raise the slider and hold it in that position before you can move the shift lever to the "R" position. To change gears, fully depress the clutch pedal, move the shift lever, and ...
Airflow control dial
Each dial position activates the following air outlets. (Ventilation): Instrument panel outlets (Bi-level): Instrument panel outlets and foot outlets (Heat): Foot outlets, both side outlets o ...
Coat hook
WARNING Do not hang coat hangers or other hard or pointed objects on the coat hooks. If such items were hanging on the coat hooks during deployment of the SRS curtain airbags, they could cause ...