Check the fluid level monthly.
1. Drive the vehicle several miles to raise the temperature of the transmission fluid up to normal operating temperature; 158 to 1768F (70 to 808C) is normal.
2. Park the vehicle on a level surface and set the parking brake.
3. First shift the select lever in each position. Then shift it in the "P" position, and run the engine at idling speed.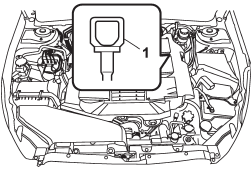 1) Yellow handle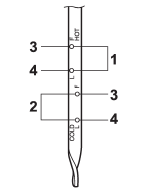 1) HOT range
2) COLD range
3) Upper level
4) Lower level
4. Pull out the level gauge and check the fluid level on the gauge. If it is below the lower level on the "HOT" range, add the recommended automatic transmission fluid up to the upper level.
See also:
Car phone/cell phone and driving
Do not use a car phone/cell phone while driving; it may distract your attention from driving and can lead to an accident. If you use a car phone/cell phone, pull off the road and park in a safe plac ...
Uniform Tire Quality Grading (UTQG)
For details, refer to "Uniform tire quality grading standards". ...
Locking the passengers' windows
1) Lock 2) Unlock To lock: Press the lock switch. When the lock switch is in the lock position, the passengers' windows cannot be opened or closed. To unlock: Press the lock switch again. ...