Check the fluid level monthly.
1. Drive the vehicle several miles to raise the temperature of the transmission fluid up to normal operating temperature; 158 to 1768F (70 to 808C) is normal.
2. Park the vehicle on a level surface and set the parking brake.
3. First shift the select lever in each position. Then shift it in the "P" position, and run the engine at idling speed.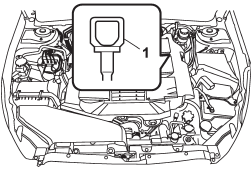 1) Yellow handle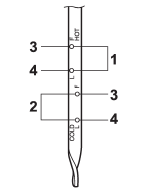 1) HOT range
2) COLD range
3) Upper level
4) Lower level
4. Pull out the level gauge and check the fluid level on the gauge. If it is below the lower level on the "HOT" range, add the recommended automatic transmission fluid up to the upper level.
See also:
Checking the clutch function
Check the clutch engagement and disengagement. 1. With the engine idling, check that there are no abnormal noises when the clutch pedal is depressed, and that shifting into 1st or reverse feels ...
To increase the speed (by accelerator pedal)
1. Depress the accelerator pedal to accelerate the vehicle to the desired speed. 2. Press the "RES/SET" switch to the "SET" side once. Now the desired speed is set and the vehicle will keep running ...
Tire pressure monitoring system (TPMS) (if equipped)
The tire pressure monitoring system provides the driver with a warning message by sending a signal from a sensor that is installed in each wheel when tire pressure is severely low. The tire pre ...