Tongue load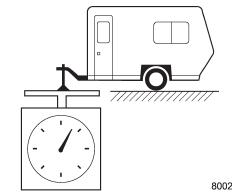 Tongue load
WARNING
If the trailer is loaded with more weight in the back of trailer's axle than in the front, the load is taken off the rear axle of the towing vehicle. This may cause the rear wheels to skid, especially during braking or when vehicle speed is reduced during cornering, resulting in oversteer, spin out and/or jackknifing.
Ensure that the trailer tongue load is from 8 to 11 percent of the total trailer weight and does not exceed the maximum value of 200 lbs (90 kg).
NOTE
For vehicles with trailer brakes, the trailer tongue load exceeds 200 lbs (90 kg) when calculated at 8% of the maximum total trailer weight.
Even in this case, the maximum value is 200 lbs (90 kg).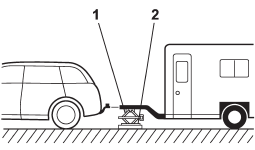 1) Jack
2) Bathroom scale
The tongue load can be weighed with a bathroom scale as shown in the following illustration. When weighing the tongue load, be sure to position the towing coupler at the height at which it would be during actual towing, using a jack as shown.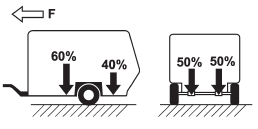 F: Front
The tongue load can be adjusted by proper distribution of the load in the trailer. Never load the trailer with more weight in the back than in the front; approximately 60 percent of the trailer load should be in the front and approximately 40 percent in the rear. Also, distribute the load as evenly as possible on both the left and right sides.
Be sure that all cargo is firmly secured to prevent a change in weight distribution while driving.
See also:
Nearing Obsolescence?
Just a year or two ago, we pointed out that there wasn't much difference between the Outback and the Subaru Forester, aside from price. Now that a larger, redesigned Forester is on the market for ...
Clock
Clock The clock shows the time while the ignition switch is in the "Acc" or "ON" position. The time changes by 1 minute each time the "+" button or "−" button is pressed. Pressing t ...
Voice command system
Talk switch To turn on the voice command system, press the talk switch briefly. To turn off the voice command system, press the talk switch for more than 1.5 seconds. The commands available ...