Gross Axle Weight (GAW) and Gross Axle Weight Rating (GAWR)
Gross Axle Weight
The total weight applied to each axle (GAW) must never exceed the Gross Axle Weight Rating (GAWR). The front and rear GAWs can be adjusted by relocating passengers and luggage inside the vehicle. The front and rear GAWR are also shown on the certification label.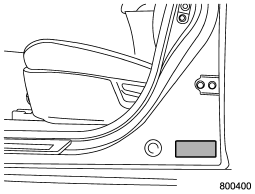 Certification label
To check both GVWR and GAWR and to confirm that the total weight and weight distribution are within safe driving limits, you should have your vehicle and trailer weighed at a commercial weighing station. Be sure that all cargo is firmly secured to prevent a change in weight distribution while driving.
See also:
Security ID plate
1) Key number plate 2) Security ID plate The security ID is stamped on the security ID plate attached to the key set. Write down the security ID and keep it in another safe place, not in the vehic ...
Connectable USB storage device
Mass storage class USB memory can be connected. USB storage devices that can be played back are accompanied by the following restrictions. • Maximum directory layers: 8 layers (including the ROOT) • ...
All new gearbox and Boxer engine
UK versions of the Subaru Impreza will be powered by an all new 4-cylinder 1.6 litre Boxer petrol engine and will be available with either a new five-speed manual transmission or Subaru's Lineartr ...