Gross Axle Weight (GAW) and Gross Axle Weight Rating (GAWR)
Gross Axle Weight
The total weight applied to each axle (GAW) must never exceed the Gross Axle Weight Rating (GAWR). The front and rear GAWs can be adjusted by relocating passengers and luggage inside the vehicle. The front and rear GAWR are also shown on the certification label.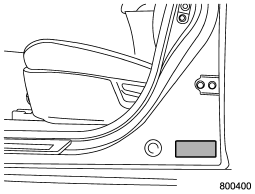 Certification label
To check both GVWR and GAWR and to confirm that the total weight and weight distribution are within safe driving limits, you should have your vehicle and trailer weighed at a commercial weighing station. Be sure that all cargo is firmly secured to prevent a change in weight distribution while driving.
See also:
Engine hood
To open the hood: 1. If the wiper blades are lifted off the windshield, return them to their original positions. 2. Pull the hood release knob under the instrument panel. 3. Release the secon ...
To help prevent corrosion
Wash the vehicle regularly to prevent corrosion of the body and suspension components. Also, wash the vehicle promptly after driving on any of the following surfaces. ● roads that have been s ...
Setting the playing speed (only when the audiobook is playing) (type D audio)
Each time you briefly press (the "RPT" button) while the audiobook is playing, the playing speed changes in the following sequence. ...