Gross Axle Weight (GAW) and Gross Axle Weight Rating (GAWR)
Gross Axle Weight
The total weight applied to each axle (GAW) must never exceed the Gross Axle Weight Rating (GAWR). The front and rear GAWs can be adjusted by relocating passengers and luggage inside the vehicle. The front and rear GAWR are also shown on the certification label.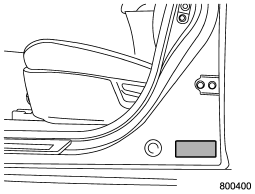 Certification label
To check both GVWR and GAWR and to confirm that the total weight and weight distribution are within safe driving limits, you should have your vehicle and trailer weighed at a commercial weighing station. Be sure that all cargo is firmly secured to prevent a change in weight distribution while driving.
See also:
Rear window side seating position
1) Head restraint 2) Release button To raise: Pull the head restraint up. To lower: Push the head restraint down while pressing the release button on the top of the seatback. To remove: Whil ...
Folding down the rear seatback
• After returning the rear seatback to its original position, be certain to place all of the seatbelts and the tab attached to the seat cushion above the seat cushion. And make certain that the s ...
Air cleaner element
WARNING Do not operate the engine with the air cleaner element removed. The air cleaner element not only filters intake air but also stops flames if the engine backfires. If the air cleaner eleme ...