Gross Vehicle Weight (GVW) and Gross Vehicle Weight Rating (GVWR)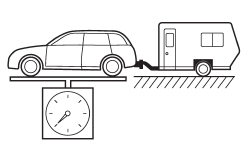 Gross Vehicle Weight
The Gross Vehicle Weight (GVW) must never exceed the Gross Vehicle Weight Rating (GVWR).
Gross Vehicle Weight (GVW) is the combined total of the weight of the vehicle, driver, passengers, luggage, trailer hitch, trailer tongue load and any other optional equipment installed on your vehicle. Therefore, the GVW changes depending on the situation. Determine the GVW each time before going on a trip by putting your vehicle and trailer on a vehicle scale. GVWR is shown on the certification label located on the driver's door of your vehicle.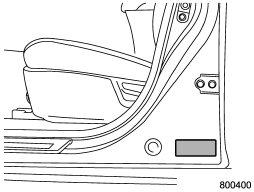 Certification label
See also:
Rear seats
Rear seats Seatbelts provide maximum restraint when the occupant sits well back and upright in the seat. Do not put cushions or any other materials between occupants and seatbacks or seat cushion ...
Audio control buttons (if equipped)
Type A audio Type B audio These buttons are located on the spokes of the steering wheel. They allow the driver to control audio functions without taking his/her hands off the steering wheel. ...
Tone and balance control (type A, B and C audio)
Each brief press of the "TUNE/TRACK/ CH" dial changes the control modes in the following sequence. Choose the preferred level for each mode by turning the "TUNE/TRACK/CH" dial. The control ...