XMTM satellite radio reception tips for antenna on the windshield (for U.S.A. only — if equipped)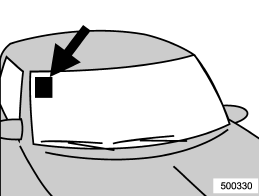 For some models, the satellite radio antenna is fixed to the upper right hand corner of the windshield.
The XMTM satellite radio receiver that is fitted to your vehicle receives the necessary signals from two specially designated satellites that are in a geostationary orbit over the equator. One satellite covers the east coast and the other covers the west coast. Both of them direct their signals north. These signals are then relayed throughout the radio reception area by a network of ground repeater stations. The satellite radio signals are transmitted as "line of sight" signals. The line of sight signals can be blocked by objects such as buildings, but the network of repeater stations allows signal coverage within urban areas such as cities.
You may experience problems in receiving XMTM satellite radio signals in the following situations.
● If you are driving northward in a coastal area
Because the satellite radio antenna is located on the windshield, the signal comes from the south and may not be able to reach the antenna in some circumstances when you are driving north.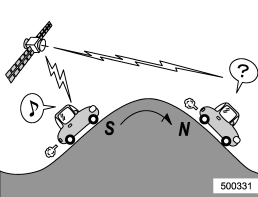 ● If you are driving in a tunnel or a covered parking area
● If you are driving beneath the top level of a multi-level freeway
● If you drive under a bridge
● If you are driving next to a tall vehicle (such as a truck or a bus) that blocks the signal
● If you are driving in a valley where the surrounding hills or peaks block the signal from the south
● If you are driving on a mountain road where the southern direction is blocked by mountains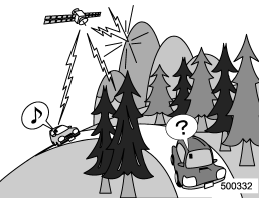 ● If you are driving in an area with tall trees that block the signal (10 m or more), for example on a road that goes through a dense forest
● The signal can become weak in some areas that are not covered by the repeater station network.
Please note that these may be other unforeseen circumstances when there are problems with the reception of XMTM satellite radio signals.
See also:
Parking brake stroke
Check the parking brake stroke according to the maintenance schedule in the "Warranty and Maintenance Booklet". When the parking brake is properly adjusted, braking power is fully applied b ...
Locking the doors
Press the "" button to lock all doors and rear gate (Outback). An electronic chirp will sound once and the turn signal lights will flash once. If any of the doors (or the rear gate/trunk lid) i ...
Precautions to observe when handling a compact disc
Use only compact discs (CDs, CD-Rs and CD-RWs) that have the mark shown in the following illustration. Also, some compact discs cannot be played. ● You cannot use a DualDisc in the CD pla ...