Scan tuning (SCAN)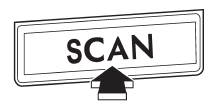 If you press the "SCAN" button, the radio will switch to the scan mode. In this mode, the radio scans through the radio band until a station is found. The radio will stop at the station for 5 seconds while displaying the frequency, after which scanning will continue until the entire band has been scanned.
Press the "SCAN" button again to cancel the SCAN mode. If you press the "SCAN" button while the radio is stopped at a station, the radio stays stopped at that station. If you press the button while the radio is scanning, the radio stops at the next receivable station.
Automatic tuning may not function properly if the station reception is weakened by distance from the station or proximity to tall buildings and hills.
See also:
Recommended fluid
Refer to "Fluids". NOTE For optimum transmission performance, only use the automatic transmission fluid that is recommended and provided by SUBARU. If the recommended automatic transmission fluid i ...
Shock sensors (dealer option)
The shock sensors trigger the alarm system when they sense impacts applied to the vehicle and when any of their electric wires are cut. The alarm system causes the horn to sound and the turn signal li ...
Sun visor extension plate
With the sun visor positioned over the side window, you can use the sun visor extension plate to prevent glare through the gap between the sun visor and center pillar. To use the extension plate ...