Examples of the types of accidents in which the SRS side airbag is unlikely to deploy.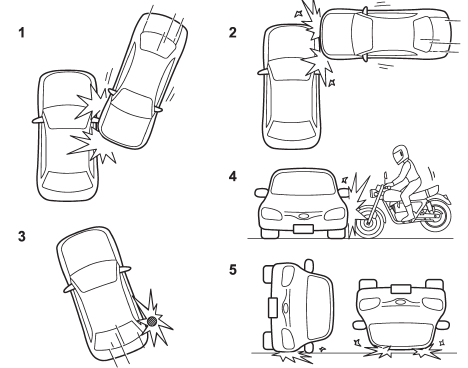 1) The vehicle is involved in an oblique side-on impact.
2) The vehicle is involved in a side-on impact in an area outside the vicinity of the passenger compartment.
3) The vehicle strikes a telephone pole or similar object.
4) The vehicle is involved in a side-on impact from a motorcycle.
5) The vehicle rolls onto its side or the roof.
There are many types of collisions which might not necessarily require SRS side airbag deployment. In the event of accidents like those illustrated, the SRS side airbag may not deploy depending on the level of accident forces involved.
See also:
Tire Identification Number (TIN)
Tire Identification Number (TIN) is marked on the intended outboard sidewall. The TIN is composed of four groups. Here is a brief review of the TIN with a breakdown of its individual elements. ...
2.5 L turbo models
Your vehicle is equipped with "summer tires" as original equipment, which are inadequate for driving on slippery roads such as on snow-covered or icy roads. Compared with winter and all-season tir ...
Drugs and driving
WARNING There are some drugs (over the counter and prescription) that can delay your reaction time and impair your perception, judgment and attentiveness. If you drive after taking them, it may i ...