Choosing a child restraint system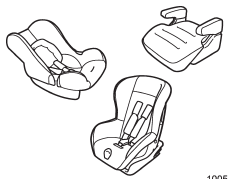 Choose a child restraint system that is appropriate for the child's age and size (weight and height) in order to provide the child with proper protection. The child restraint system should meet all applicable requirements of Federal Motor Vehicle Safety Standards for United States or Canada Motor Vehicle Safety Standards for Canada. It can be identified by looking for the label on the child restraint system or the manufacture's statement of compliance in the document attached to the system. Also it is important for you to make sure that the child restraint system is compatible with the vehicle in which it will be used.
See also:
State emission testing (U.S. only)
WARNING Testing of an All-Wheel Drive vehicle must NEVER be performed on a single two-wheel dynamometer. Attempting to do so will result in uncontrolled vehicle movement and may cause an accident ...
Convenient tie-down hooks (if equipped)
CAUTION The convenient tie-down hooks are designed only for securing light cargo. Never try to secure cargo that exceeds the capacity of the hooks. The maximum load capacity is 44 lbs (20 kg) per ...
Safety symbol
You will find a circle with a slash through it in this manual. This symbol means "Do not", "Do not do this", or "Do not let this happen", depending upon the context. ...