Main fuse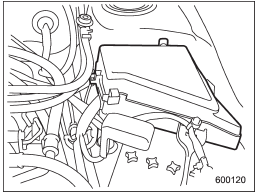 Main fuse box
The main fuses are designed to melt during an overload to prevent damage to the wiring harness and electrical equipment.
Check the main fuses if any electrical component fails to operate (except the starter motor) and other fuses are good. A melted main fuse must be replaced. Use only replacements with the same specified rating as the melted main fuse. If a main fuse blows after it is replaced, have the electrical system checked by your nearest SUBARU dealer.
See also:
Shift-up indicator light (STI)
While selecting the Intelligent (I) mode of SI-DRIVE, this indicator light illuminates and informs the driver about the upshift timing for fuel-efficient driving. ...
Combination meter illumination
When the ignition switch is turned to the "ON" position, the various parts of the combination meter are illuminated in the following sequence: 1. Warning lights, indicator lights, meter need ...
Tire labeling
Many markings (e.g. Tire size, Tire Identification Number or TIN) are placed on the sidewall of a tire by tire manufacturers. These markings can provide you with useful information on the tire. ...