Battery

• Before beginning work on or near any battery, be sure to extinguish all cigarettes, matches, and lighters.
Never expose a battery to an open flame or electric sparks.
Batteries give off a gas which is highly flammable and explosive.
• For safety, in case an explosion does occur, wear eye protection or shield your eyes when working near any battery. Never lean over a battery.
• Do not let battery fluid contact eyes, skin, fabrics, or paint because battery fluid is a corrosive acid. If battery fluid gets on your skin or in your eyes, immediately flush the area with water thoroughly.
Seek medical help immediately if acid has entered the eyes.
If battery fluid is accidentally swallowed, immediately drink a large amount of milk or water, and seek medical attention immediately.
• To lessen the risk of sparks, remove rings, metal watchbands, and other metal jewelry. Never allow metal tools to contact the positive battery terminal and anything connected to it WHILE you are at the same time in contact with any other metallic portion of the vehicle because a short circuit will result.
• Keep everyone including children away from the battery.
• Charge the battery in a wellventilated area.
• Battery posts, terminals and related accessories contain lead and lead compounds, chemicals known to the State of California to cause cancer and reproductive harm. Batteries also contain other chemicals known to the State of California to cause cancer.
Wash hands after handling.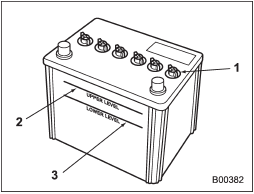 1) Cap
2) Upper level
3) Lower level
It is unnecessary to periodically check the battery fluid level or periodically refill with distilled water.
However, if the battery fluid level is below the lower level, remove the cap. Fill to the upper level with distilled water.

Never use more than 10 amperes when charging the battery because it will shorten battery life.
See also:
Safety symbol
You will find a circle with a slash through it in this manual. This symbol means "Do not", "Do not do this", or "Do not let this happen", depending upon the context. ...
Daytime running light system (if equipped)
The brightness of the illumination of the high beam headlights is reduced by the daytime running light system. The light switch must always be turned to the "" position when it is dar ...
Abbreviation list
You will find several abbreviations in this manual. The meanings of the abbreviations are shown in the following list. ...