Type B
1. Raise the wiper arm off the windshield.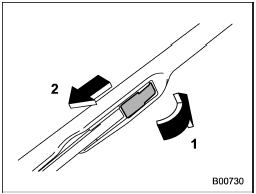 1) Open the cover
2) Pull down the wiper blade
2. Remove the wiper blade assembly by opening the cover and pulling it down in the direction shown in the illustration.
3. Install the wiper blade assembly to the wiper arm. Make sure that it locks in place.
4. Hold the wiper arm by hand and slowly lower it in position.
See also:
Wheel alignment
*: The difference between right-hand camber and left-hand camber should be within 45' or less. ...
Driving on grades
- Before going down a steep hill, slow down and shift into lower gear (if necessary, use 1st gear) in order to utilize the engine braking effect and prevent overheating of your vehicle's brake ...
Remote engine start transmitter programming and programmable feature option
New transmitters can be programmed to the remote engine start system in the event that remote engine start transmitters are lost, stolen or damaged. The remote engine start system also has one program ...