Tire rotation direction mark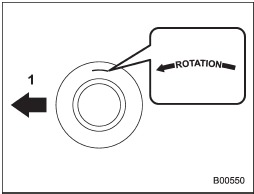 Example of tire rotation direction mark
1) Front
If the tire has the rotation direction specification, the tire rotation direction mark is placed on its sidewall.
When you install a tire that has the tire rotation direction mark, install the tire with the direction mark facing forward.
See also:
Tires
*1: This torque is equivalent to applying approximately 88 to 110 lbf (40 to 50 kgf) at the end of the wheel nut wrench. If you have tightened the wheel nuts by yourself, have the tightening tor ...
Measuring and adjusting air pressure to achieve proper inflation
Check and, if necessary, adjust the pressure of each tire (including the spare) at least once a month and before any long journey. Check the tire pressures when the tires are cold. Use a pre ...
Trailer hitches
WARNING Never drill the frame or under-body of your vehicle to install a commercial trailer hitch. If you do, dangerous exhaust gas, water or mud may enter the passenger compartment through the d ...