Parking brake stroke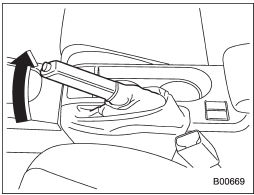 Check the parking brake stroke according to the maintenance schedule in the "Warranty and Maintenance Booklet".
When the parking brake is properly adjusted, braking power is fully applied by pulling the lever up 7 to 8 notches gently but firmly (approximately 45 lbf [200 N, 20.4 kgf]). If the parking brake lever stroke is not within the specified range, have the brake system checked and adjusted at your SUBARU dealer.
See also:
Low fuel warning light
The low fuel warning light illuminates when the tank is nearly empty approximately 2.6 US gal (10.0 liters, or 2.2 Imp gal). It only operates when the ignition switch is in the "ON" positi ...
Brake booster
The brake booster uses engine manifold vacuum to assist braking force. Do not turn off the engine while driving because that will turn off the brake booster, resulting in poor braking power. The ...
Oil pressure warning light
If this light illuminates when the engine is running, it may indicate that the engine oil pressure is low and the lubricating system is not working properly. If the light illuminates while driving ...