Parking brake stroke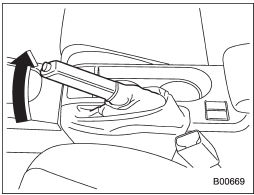 Check the parking brake stroke according to the maintenance schedule in the "Warranty and Maintenance Booklet".
When the parking brake is properly adjusted, braking power is fully applied by pulling the lever up 7 to 8 notches gently but firmly (approximately 45 lbf [200 N, 20.4 kgf]). If the parking brake lever stroke is not within the specified range, have the brake system checked and adjusted at your SUBARU dealer.
See also:
Measuring and adjusting air pressure to achieve proper inflation
Check and, if necessary, adjust the pressure of each tire (including the spare) at least once a month and before any long journey. Check the tire pressures when the tires are cold. Use a pressure ...
Electronic parking brake system warning
The brake system warning light flashes when the electronic parking brake system is malfunctioning. If the warning light flashes, promptly park in a safe location as soon as possible and contact yo ...
Warning and indicator lights
Several of the warning and indicator lights illuminate momentarily and then turn off when the ignition switch is initially turned to the "ON" position. This permits checking the operation of the bulbs ...