Replacement of brake pad and lining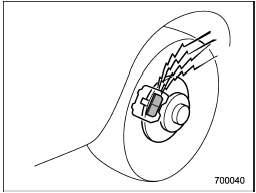 The right front disc brake and the right rear disc brake have audible wear indicators on the brake pads. If the brake pads wear close to their service limit, the wear indicator makes a very audible scraping noise when the brake pedal is applied.
If you hear this scraping noise each time you apply the brake pedal, have the brake pads serviced by your SUBARU dealer as soon as possible.

If you continue to drive despite the scraping noise from the audible brake pad wear indicator, it will result in the need for costly brake rotor repair or replacement.
See also:
Programming rolling-code-protected garage door openers in the U.S.A.
If your garage door opener has a rolling code feature, program the HomeLink® Wireless Control System for it by following steps 1 through 5 in "Garage door opener programming in the U.S.A.". Then conti ...
Trailer safety chains
WARNING Always use safety chains between your vehicle and the trailer. Towing trailer without safety chains could create a traffic safety hazard if the trailer separates from the hitch due to cou ...
Ashtray (if equipped)
• Do not use ashtrays as waste receptacles or leave a lighted cigarette in an ashtray. This could cause a fire. • Always extinguish matches and cigarettes before putting them into the ashtray, an ...