Replacement of brake pad and lining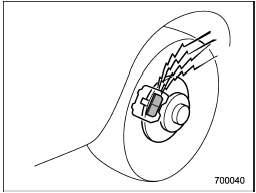 The right front disc brake and the right rear disc brake have audible wear indicators on the brake pads. If the brake pads wear close to their service limit, the wear indicator makes a very audible scraping noise when the brake pedal is applied.
If you hear this scraping noise each time you apply the brake pedal, have the brake pads serviced by your SUBARU dealer as soon as possible.

If you continue to drive despite the scraping noise from the audible brake pad wear indicator, it will result in the need for costly brake rotor repair or replacement.
See also:
Other markings
The following makings are also placed on the sidewall. Maximum permissible inflation pressure The maximum cold inflation pressure to which this tire may be inflated. For example, "350 kPa (51 PSI) ...
Bi-level heating
This setting allows you to direct air of different temperatures from the instrument panel and foot outlets. The air from the foot outlets is slightly warmer than from the instrument panel outlets. ...
Volume control
Volume control You can adjust the phone call volume, the voice volume and the voice guidance volume. Refer to "Volume control buttons". ...