Drive belts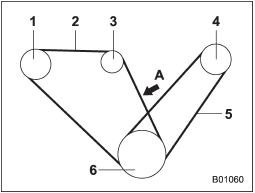 1) Power steering oil pump pulley
2) Front side belt
3) Alternator pulley
4) Air conditioner compressor pulley
5) Rear side belt
6) Crank pulley
A) 22 lbf (98 N, 10 kgf)

The front side belt, which runs in conjunction with the following components, must be used within the specified deflection.
• Power steering oil pump pulley
• Alternator pulley
• Crank pulley
Check the deflection of the front side belt and if there is any looseness, cracks, wear or unusual noise on the front side belt, contact your SUBARU dealer.
Continuing to use the vehicle with the belt outside of the specification may cause the engine to malfunction and the above components to malfunction.
To check the deflection of the front side belt, place a straightedge (ruler) across two adjacent pulleys (alternator pulley and crank pulley) and apply a force of 22 lbf (98 N, 10 kgf) midway between the pulleys by using a spring scale. The belt deflection should be the amount specified. If the front side belt is loose, cracked or worn, contact your SUBARU dealer.

The rear side belt is a stretch-type belt, therefore the deflection does not need to be checked. If there are cracks or wear confirmed on the belts and a squeaking noise is heard from them, contact your SUBARU dealer.
See also:
Front passenger's SRS frontal airbag
The front passenger's SRS frontal airbag uses a dual stage inflator. The inflator operates in different ways depending on the severity of impact. The total load on the seat is monitored by the pass ...
Trailer towing tips
- Never exceed 45 mph (72 km/h) when towing a trailer in hilly country on hot days. - When towing a trailer, steering, stability, stopping distance and braking performance will be differe ...
Washing the underbody
Chemicals, salts and gravel used for deicing road surfaces are extremely corrosive, accelerating the corrosion of underbody components, such as the exhaust system, fuel and brake lines, brake cabl ...