Drive belts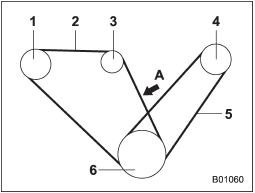 1) Power steering oil pump pulley
2) Front side belt
3) Alternator pulley
4) Air conditioner compressor pulley
5) Rear side belt
6) Crank pulley
A) 22 lbf (98 N, 10 kgf)

The front side belt, which runs in conjunction with the following components, must be used within the specified deflection.
• Power steering oil pump pulley
• Alternator pulley
• Crank pulley
Check the deflection of the front side belt and if there is any looseness, cracks, wear or unusual noise on the front side belt, contact your SUBARU dealer.
Continuing to use the vehicle with the belt outside of the specification may cause the engine to malfunction and the above components to malfunction.
To check the deflection of the front side belt, place a straightedge (ruler) across two adjacent pulleys (alternator pulley and crank pulley) and apply a force of 22 lbf (98 N, 10 kgf) midway between the pulleys by using a spring scale. The belt deflection should be the amount specified. If the front side belt is loose, cracked or worn, contact your SUBARU dealer.

The rear side belt is a stretch-type belt, therefore the deflection does not need to be checked. If there are cracks or wear confirmed on the belts and a squeaking noise is heard from them, contact your SUBARU dealer.
See also:
Vehicle finder function
Use this function to find your vehicle parked among many vehicles in a large parking lot. Provided you are within 30 feet (10 meters) of the vehicle, pressing the "" button three times in a 5-seco ...
To engage the service mode
Turn the ignition switch to the "ON" position, depress and hold the brake pedal, then press and release the "" button on the remote control transmitter three times. The system will pause for 1 ...
Seatbelt warning light and chime
Your vehicle is equipped with a seatbelt warning device at the driver's and front passenger's seat, as required by current safety standards. With the ignition switch turned to the "ON" position, th ...