Drive belts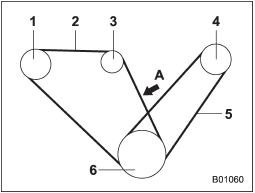 1) Power steering oil pump pulley
2) Front side belt
3) Alternator pulley
4) Air conditioner compressor pulley
5) Rear side belt
6) Crank pulley
A) 22 lbf (98 N, 10 kgf)

The front side belt, which runs in conjunction with the following components, must be used within the specified deflection.
• Power steering oil pump pulley
• Alternator pulley
• Crank pulley
Check the deflection of the front side belt and if there is any looseness, cracks, wear or unusual noise on the front side belt, contact your SUBARU dealer.
Continuing to use the vehicle with the belt outside of the specification may cause the engine to malfunction and the above components to malfunction.
To check the deflection of the front side belt, place a straightedge (ruler) across two adjacent pulleys (alternator pulley and crank pulley) and apply a force of 22 lbf (98 N, 10 kgf) midway between the pulleys by using a spring scale. The belt deflection should be the amount specified. If the front side belt is loose, cracked or worn, contact your SUBARU dealer.

The rear side belt is a stretch-type belt, therefore the deflection does not need to be checked. If there are cracks or wear confirmed on the belts and a squeaking noise is heard from them, contact your SUBARU dealer.
See also:
Play file
Refer to "Play file". NOTE • Copyright protected MP3/WMA/AAC files will not be played by the system. The player will automatically skip to the next file (track). • WMA9 Lossless, WMA9 Professional ...
Seatbelt warning light and chime
Your vehicle is equipped with a seatbelt warning device at the driver's and front passenger's seat, as required by current safety standards. With the ignition switch turned to the "ON" po ...
High mount stop light (4- door) (except LED [Light Emitting Diode] type)
1. Remove the high mount stop light cover by prying the edge with a screwdriver. 2. Remove the bulb socket from the high mount stop light assembly by turning it counterclockwise. 3. Pull the bulb ...