Towing with all wheels on the ground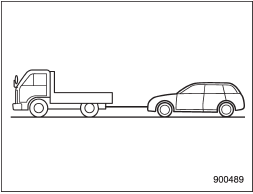 1. Release the parking brake and put the transmission in the "N"/neutral position.
2. The ignition switch should be in the "Acc" position while the vehicle is being towed.
3. Take up slack in the towline slowly to prevent damage to the vehicle.

• Never turn the ignition switch to the "LOCK" position while the vehicle is being towed because the steering wheel and the direction of the wheels will be locked.
• Remember that the brake booster and power steering do not function when the engine is not running. Because the engine is turned off, it will take greater effort to operate the brake pedal and steering wheel.

• If transmission failure occurs, transport your vehicle on a flatbed truck.
• Do not run the engine while being towed using this method. Transmission damage could result if the vehicle is towed with the engine running.
• For models with automatic transmission, the traveling speed must be limited to less than 20 mph (30 km/h) and the traveling distance to less than 31 miles (50 km). For greater speeds and distances, transport your vehicle on a flat-bed truck.
See also:
Deleting old transmitter codes
The control unit of the remote keyless entry system has four memory locations to store transmitter codes, giving it the ability to operate with up to four transmitters. When you lose a transmitter, t ...
Other sound setting controls (type A audio)
Each brief press of the "MENU" button changes the control modes in the following sequence. Choose the desired settings for each mode by turning the "TUNE/TRACK/CH" dial. The control function r ...
Display selection (type C audio)
Select an item to be displayed using the same method as when a CD is played. Refer to "Display selection (type A, B and C audio)". Each time you briefly press the button, the indication chan ...