Towing with all wheels on the ground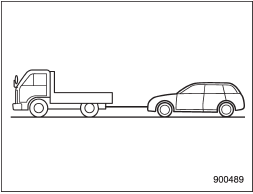 1. Release the parking brake and put the transmission in the "N"/neutral position.
2. The ignition switch should be in the "Acc" position while the vehicle is being towed.
3. Take up slack in the towline slowly to prevent damage to the vehicle.

• Never turn the ignition switch to the "LOCK" position while the vehicle is being towed because the steering wheel and the direction of the wheels will be locked.
• Remember that the brake booster and power steering do not function when the engine is not running. Because the engine is turned off, it will take greater effort to operate the brake pedal and steering wheel.

• If transmission failure occurs, transport your vehicle on a flatbed truck.
• Do not run the engine while being towed using this method. Transmission damage could result if the vehicle is towed with the engine running.
• For models with automatic transmission, the traveling speed must be limited to less than 20 mph (30 km/h) and the traveling distance to less than 31 miles (50 km). For greater speeds and distances, transport your vehicle on a flat-bed truck.
See also:
Compass calibration
1. For optimum calibration, switch off all nonessential electrical accessories (rear window defogger, heater/air conditioning system, spotlight, etc.) and ensure all doors are shut. 2. Drive ...
Tire inspection
Check on a daily basis that the tires are free from serious damage, nails, and stones. At the same time, check the tires for abnormal wear. Contact your SUBARU dealer immediately if you find ...
Safety precautions
WARNING ● For safety reasons, avoid operating of the cell phone while driving. ● Do not make a phone call while driving. When you have an incoming call, stop the vehicle in a safe loca ...