Selecting reverse gear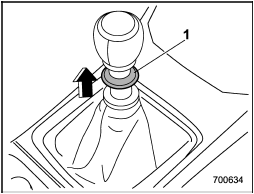 1) Slider
You must raise the slider and hold it in that position before you can move the shift lever to the УRФ position.
To change gears, fully depress the clutch pedal, move the shift lever, and gradually let up on the clutch.
If it is difficult to shift into gear, put the transmission in neutral, release the clutch pedal momentarily, and then try again.

Shift into reverse ONLY when the vehicle has completely stopped. It may cause damage to the transmission to try shifting into reverse when the vehicle is moving.
See also:
Rear combination lights
1. Using a Phillips screwdriver, remove the upper and lower screws that secure the rear combination light assembly. 2. Slide the rear combination light assembly rearward and remove it from ...
Measuring and adjusting air pressure to achieve proper inflation
Check and, if necessary, adjust the pressure of each tire (including the spare) at least once a month and before any long journey. Check the tire pressures when the tires are cold. Use a pressure ...
FM selection
Press the УFMФ button when the radio is on to select FM1, FM2 or FM3 reception. Each brief press of the УFMФ button changes the radio in the following sequence starting from the last FM radio ban ...