Deleting the speed dial
1. Select the "PHONE BOOK" menu.
2. Select "DEL SPD DIAL" by operating the "TUNE/TRACK/CH" dial or select "DELETE SPEED DIAL" by using the voice command system.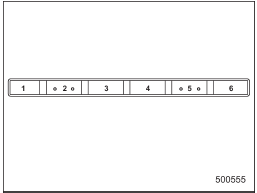 Preset buttons
3. Press the preset button in which you want to delete the speed dial.
4. Select the "CONFIRM" menu. Then "DELETED" is displayed and the selected speed dial is deleted.