Connectable iPod® models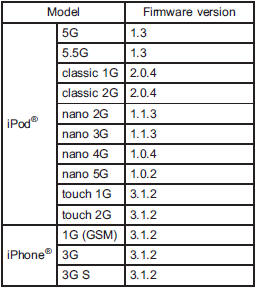 Do not connect an iPod® other than the previously stated models. Doing so may result in a malfunction or, depending on conditions, cause a fire.
NOTE
• iPod® is a registered trademark of Apple Inc.
• You are only permitted to personally copy and play copyright-free material or material that is legally permitted to be copied and played by using an iPod® and iTunes. Copyright infringement is prohibited by law.
• To check the firmware version of an iPod®, connect it to a computer and check the device manager. For further information, see the User's Guide that comes with the iPod® • To update the firmware version of an iPod®, visit the Apple Inc. website.
• Depending on the model and firmware version of an iPod®, it may not work properly or not operate at all.
See also:
Display selection
Select an indication in the same way that an indication is selected when a CD is played. Refer to "Display selection". Each time you briefly press the "TEXT" button, the indication changes in the foll ...
Washing
• When washing the vehicle, the brakes may get wet. As a result, the brake stopping distance will be longer. To dry the brakes, drive the vehicle at a safe speed while lightly depressing the brake ...
Flat tires
If you have a flat tire while driving, never brake suddenly; keep driving straight ahead while gradually reducing speed. Then slowly pull off the road to a safe place. ...