Inserting a disc in a desired position
1. Briefly press the "LOAD" button. If the magazine in the player has an idle position where you can insert a disc, the disc number indicator associated with the idle position will blink.
The positions in the magazine the indicator of which steadily lights up are already loaded with discs.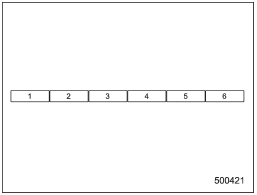 Disc select buttons
2. Press the disc select button at the position where you want to insert a disc.
3. When the "LOAD" indicator illuminates, insert the disc. Once you have inserted the disc, the "LOAD" indicator will turn off. The disc will then be automatically drawn in, and the player will begin to play the first track on the disc.
• If you wish to insert another disc, repeat the procedure beginning with step 1.
If you do not insert any disc in 15 seconds after you have pressed the "LOAD" button, the player will begin to play back the first track of the last disc you have inserted.
• While the player is in the loading mode, if you press "FM/AM" or "SAT" button, the player will enter standby mode. Press the "CD/AUX" button to start playback.
See also:
System maintenance
NOTE In the event that the vehicle's battery is replaced, discharged or disconnected, it will be necessary to start the vehicle a minimum of one time using the key prior to activating the remote ...
Alarm system
It blinks to show the driver the operational status of the alarm system. For detailed information, refer to "Alarm system" F2- 15. ...
Immobilizer system
This light blinks approximately 60 seconds after the ignition switch is turned from "ON" position to the "Acc" or "LOCK" position or immediately after the key is pulled out. Refer to "Immobilizer" ...