Bi-level heating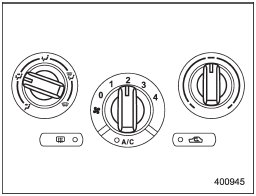 Bi-level heating
This setting allows you to direct air of different temperatures from the instrument panel and foot outlets. The air from the foot outlets is slightly warmer than from the instrument panel outlets.
1. Set the air inlet selection button to the OFF position.
2. Set the airflow control dial to the У

Ф position.
3. Set the temperature control dial to the desired temperature level.
4. Set the fan speed control dial to the desired speed.
Setting the temperature control dial fully turned to the red area or blue area decreases the temperature difference between the air from the instrument panel outlets and the air from the foot outlets.
See also:
Preparing to drive
You should perform the following checks and adjustments every day before you start driving. 1. Check that all windows, mirrors, and lights are clean and unobstructed. 2. Check the appearance and c ...
Wheel balance
Each wheel was correctly balanced when your vehicle was new, but the wheels will become unbalanced as the tires become worn during use. Wheel imbalance causes the steering wheel to vibrate slightly at ...
Deactivating the REV alarm system
To deactivate the REV indicator light and buzzer functions of the REValarm system, set the thousands place of the alarm-level engine speed to УЦФ. ...