Bi-level heating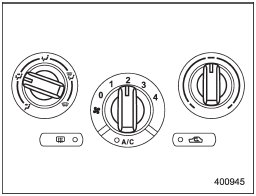 Bi-level heating
This setting allows you to direct air of different temperatures from the instrument panel and foot outlets. The air from the foot outlets is slightly warmer than from the instrument panel outlets.
1. Set the air inlet selection button to the OFF position.
2. Set the airflow control dial to the У

Ф position.
3. Set the temperature control dial to the desired temperature level.
4. Set the fan speed control dial to the desired speed.
Setting the temperature control dial fully turned to the red area or blue area decreases the temperature difference between the air from the instrument panel outlets and the air from the foot outlets.
See also:
Frugal interior
Now there are other things Subaru does not do quite as well. Interiors, for example. When you sit in the WRX, you look around and think: This is adequate. The seats are comfortable and offer exc ...
Meters and gauges
NOTE Liquid-crystal displays are used in some of the meters and gauges on the combination meter. You will find their indications hard to see if you wear polarized glasses. ...
Roof antenna
Х Be sure to lower the antenna rod before entering garages, parking towers and other locations with low ceilings. Х Remove the antenna rod before washing your car at a car wash. If the antenna ro ...