Bi-level heating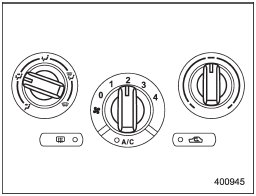 Bi-level heating
This setting allows you to direct air of different temperatures from the instrument panel and foot outlets. The air from the foot outlets is slightly warmer than from the instrument panel outlets.
1. Set the air inlet selection button to the OFF position.
2. Set the airflow control dial to the "

" position.
3. Set the temperature control dial to the desired temperature level.
4. Set the fan speed control dial to the desired speed.
Setting the temperature control dial fully turned to the red area or blue area decreases the temperature difference between the air from the instrument panel outlets and the air from the foot outlets.
See also:
Tire size
Your vehicle comes equipped with P-Metric tire size. It is important to understand the sizing system in selecting the proper tire for your vehicles. Here is a brief review of the tire sizing system wi ...
All season tires
All season tires are designed to provide an adequate measure of traction, handling and braking performance in year-round driving including snowy and icy road conditions. However all season tir ...
Before checking or servicing in the engine compartment
WARNING ● Always stop the engine and apply the parking brake to prevent the vehicle from moving. ● Always let the engine cool down. Engine parts become very hot when the engine is ru ...