Defrosting or defogging the windshield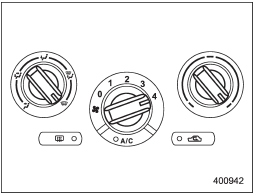 Defrosting or defogging the windshield
To direct warm air to the windshield and front door windows:
1. Set the airflow control dial to the "

" position.
2. Turn the temperature control dial all the way to the right.
3. Set the fan speed control dial to the highest speed.
See also:
Control panel
Control panel 1) Temperature control dial 2) Fan speed control dial 3) Airflow control dial 4) Control switch of the defogger and deicer system (Refer to "Defogger and deicer".) 5) Air inlet se ...
Feature of distance marker
1) 3 feet (1 m) line 2) 6.5 feet (2 m) line 3) 10 feet (3 m) line The distance marker shows the distance on the road. If there is a car or other object close behind, distance cannot be correctl ...
P Metric
With the P-Metric system, Section Width is measured in millimeters. To convert millimeters into inches, divide by 25.4. The Aspect Ratio (Section Height divided by Section Width) helps provide more d ...