Select lever/gear position indicator (AT models)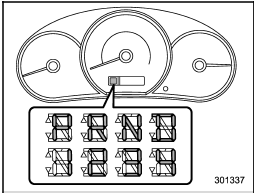 When the ignition switch is turned to the "ON" position, all of the select lever/gear position indicators illuminate for 2 seconds, and then the indicator shows the position of the select lever.
When the manual mode is selected, the gear position indicator (which shows the current gear selection) and the upshift/ downshift indicator light up. Refer to "Automatic transmission".