Rear gate (5-door)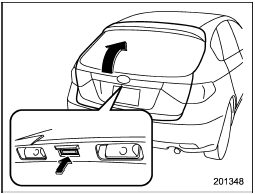 The rear gate can be locked and unlocked using any of the following systems.
• Power door locking switch: Refer to "Power door locking switches".
• Remote keyless entry system: Refer to "Remote keyless entry system".
To open:
First unlock the rear gate lock then push the rear gate opener button.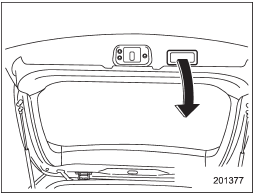 To close:
Lower the rear gate slowly and push down firmly until the latch engages.
The rear gate can be lowered easily if you pull it down holding the recessed grip.

• To prevent dangerous exhaust gas from entering the vehicle, always keep the rear gate closed while driving.
• Do not attempt to shut the rear gate while holding the recessed grip. Also avoid closing the rear gate by pulling on the recessed grip from inside the cargo space.
There is a danger of your hand being caught and injured.

• Do not jam a plastic bag in or place cellophane tape on the rear gate stays or scratch the stays while loading or unloading cargo.
That could cause leakage of gas from the stays, which may result in their inability to hold the rear gate open.
• Be careful not to hit your head or face on the rear gate when opening or closing the rear gate and when loading or unloading cargo.
NOTE
If the rear gate cannot be unlocked due to a discharged vehicle battery, a malfunction in the door locking/unlocking system or other causes, you can unlock it by manually operating the rear gate lock release lever. For the procedure, refer to "Rear gate – if the rear gate cannot be unlocked".
See also:
Electronic compass display
By briefly pressing the compass button, the compass display is toggled on or off. When the compass display is on, an illuminated compass reading will appear on the mirror. Using the electronic co ...
How to preset channels
1. Press the "SAT" button to select SAT1, SAT2 or SAT3 reception. 2. Select the desired channel. 3. Press one of the preset buttons (from to ) for more than 1.5 seconds to store the channel ...
Installation of accessories
Always consult your SUBARU dealer before installing a citizen band radio or other transmitting device in your vehicle. Such devices may cause the electronic control system to malfunction if they a ...