Replacing the battery

• Do not let dust, oil or water get on or in the transmitter when replacing the battery.
• Be careful not to damage the printed circuit board in the transmitter when replacing the battery.
• Be careful not to allow children to touch the battery and any removed parts; children could swallow them.
• There is a danger of explosion if an incorrect replacement battery is used. Replace only with the same or equivalent type of battery.
• Batteries should not be exposed to excessive heat such as sunshine, fire or the like.
When the transmitter battery begins to get weak, transmitter range will begin to decrease. Replace the battery as soon as possible.
To replace the battery:
1. Open the transmitter case using a flathead screwdriver.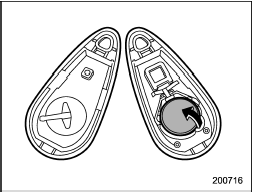 2. Remove the old battery from the holder.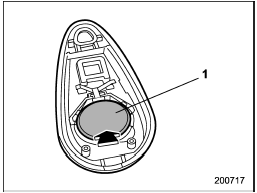 1) Negative (−) side facing up
3. Replace with a new battery (type CR2025 or equivalent) making sure to install the new battery with the negative (−) side facing up.
4. Refit the removed half of the transmitter case.
After the battery is replaced, the transmitter must be synchronized with the remote keyless entry system's control unit. Press either the "
" or "

" button six times to synchronize the unit.
See also:
Changing the voice tag of the cell phone
1. Select the "CHANGE NAME" menu. If no cell phones are registered, "EMPTY" is displayed and the mode changes to the "PHONE SETUP" mode. 2. Select the cell phone by operating the "TUNE/TRACK/ ...
Map light
Models with moonroof Models without moonroof To turn on the map light, press the switch. To turn it off, press the switch again. When leaving the vehicle, make sure the lights are turned off t ...
Corrosion protection
Your SUBARU has been designed and built to resist corrosion. Special materials and protective finishes have been used on most parts of the vehicle to help maintain fine appearance, strength, a ...