Adjusting the front seat shoulder belt anchor height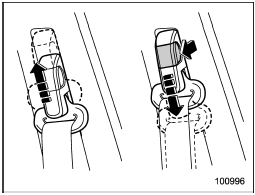 The shoulder belt anchor height should be adjusted to the position best suited for the driver/front passenger. Always adjust the anchor height so that the shoulder belt passes over the middle of the shoulder without touching the neck.
To raise:
Slide the anchor up.
To lower:
Pull the release knob and slide the anchor down.
Pull down on the anchor to make sure that it is locked in place.

When wearing the seatbelts, make sure the shoulder portion of the webbing does not pass over your neck. If it does, adjust the seatbelt anchor to a lower position. Placing the shoulder belt over the neck may result in neck injury during sudden braking or in a collision.
See also:
Feature of distance marker
1) 3 feet (1 m) line 2) 6.5 feet (2 m) line 3) 10 feet (3 m) line The distance marker shows the distance on the road. If there is a car or other object close behind, distance cannot be correctl ...
Auto-store
Using the Auto-store function, you can automatically store 6 stations on the current waveband by pressing the "A.S" button for more than 2 seconds. Use Autostore to quickly find the strongest st ...
Hill start assist system (MT models)
Ensure that the Hill start assist system operates properly under the following circumstances: 1. Stop the vehicle on an uphill grade by depressing the brake pedal and clutch pedal, with the ...