Adjusting the front seat shoulder belt anchor height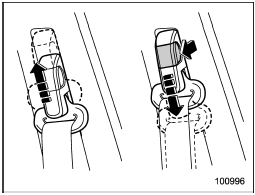 The shoulder belt anchor height should be adjusted to the position best suited for the driver/front passenger. Always adjust the anchor height so that the shoulder belt passes over the middle of the shoulder without touching the neck.
To raise:
Slide the anchor up.
To lower:
Pull the release knob and slide the anchor down.
Pull down on the anchor to make sure that it is locked in place.

When wearing the seatbelts, make sure the shoulder portion of the webbing does not pass over your neck. If it does, adjust the seatbelt anchor to a lower position. Placing the shoulder belt over the neck may result in neck injury during sudden braking or in a collision.
See also:
Select lever and gear position indicator (AT models)
Type A Type B This indicator shows the position of the select lever. When the manual mode is selected, the gear position indicator (which shows the current gear selection) and the ups ...
Head restraint adjustment (if equipped)
Head restraint adjustment (if equipped) 1) Head restraint 2) Release button Both the driver's seat and the front passenger's seat are equipped with head restraints. The head restraint should be ad ...
Temperature sensors
Temperature sensors 1) Interior air temperature sensor 2) Solar sensor The automatic climate control system employs several sensors. These sensors are delicate. If they are not treated properly and ...