Head restraint adjustment (if equipped)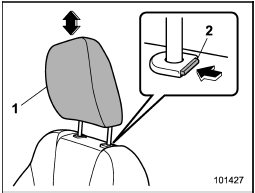 Head restraint adjustment (if equipped)
1) Head restraint
2) Release button
Both the driver's seat and the front passenger's seat are equipped with head restraints.
The head restraint should be adjusted so that the center of the head restraint is closest to the top of the occupant's ears.
To raise:
Pull the head restraint up.
To lower:
Push the head restraint down while pressing the release button on the top of the seatback.
To remove:
While pressing the release button, pull out the head restraint.
To install:
Install the head restraint into the holes that are located on the top of the seatback until the head restraint locks.

• Never drive the vehicle with the head restraints removed because they are designed to reduce the risk of serious neck injury in the event that the vehicle is struck from the rear. Therefore, when you remove the head restraints, you must reinstall all head restraints to protect vehicle occupants.
• All occupants, including the driver, should not operate a vehicle or sit in a vehicle's seat until the head restraints are placed in their proper positions in order to minimize the risk of neck injury in the event of a crash.
See also:
Brake booster
The brake booster uses engine manifold vacuum to assist braking force. Do not turn off the engine while driving because that will turn off the brake booster, resulting in poor braking power. The ...
Adjustable level of each mode
*: For type A and B audio, AUX volume can be adjusted only when an AUX audio product is connected. ...
Most common causes of corrosion
The most common causes of corrosion are: 1. The accumulation of moisture retaining dirt and debris in body panel sections, cavities, and other areas. 2. Damage to paint and other protective ...