Rear window wiper blade rubber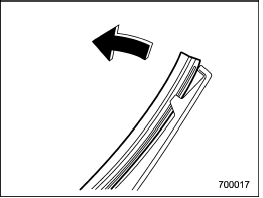 1. Pull out the end of the blade rubber assembly to unlock it from the plastic support.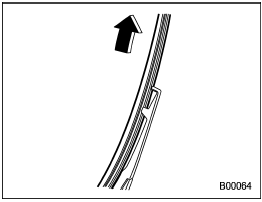 2. Pull the blade rubber assembly out of the plastic support.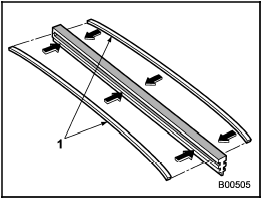 1) Metal spines
3. If the new blade rubber is not provided with two metal spines, remove the metal spines from the old blade rubber and install them in the new blade rubber.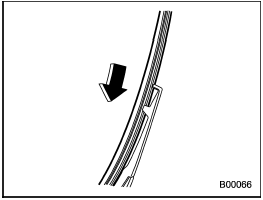 4. Align the claws of the plastic support with the grooves in the blade rubber assembly, then slide the blade rubber assembly into place.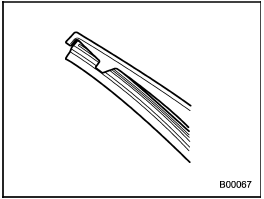 Securely retain both ends of the rubber with the stoppers on the plastic support ends. If the rubber is not retained properly, the wiper may scratch the rear window glass.
See also:
Engine overheating
Never attempt to remove the radiator cap until the engine has been shut off and has fully cooled down. When the engine is hot, the coolant is under pressure. Removing the cap while the engine is ...
XMTM satellite radio reception tips for antenna on the windshield (for U.S.A. only — if equipped)
For some models, the satellite radio antenna is fixed to the upper right hand corner of the windshield. The XMTM satellite radio receiver that is fitted to your vehicle receives the necessary ...
Initialization of power window
If the vehicle's battery is disconnected due to situations such as battery or fuse replacement, the following functions are deactivated. ● One-touch auto up/down function ● Anti-entrap ...