Wear indicators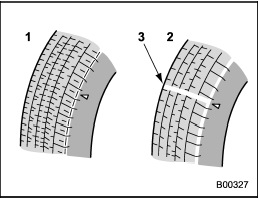 1) New tread
2) Worn tread
3) Tread wear indicator
Each tire incorporates a tread wear indicator, which becomes visible when the depth of the tread grooves decreases to 0.063 in (1.6 mm). A tire must be replaced when the tread wear indicator appears as a solid band across the tread.

When a tire's tread wear indicator becomes visible, the tire is worn beyond the acceptable limit and must be replaced immediately. With a tire in this condition, driving at high speeds in wet weather can cause the vehicle to hydroplane.
The resulting loss of vehicle control can lead to an accident.
NOTE
For safety, inspect tire tread regularly and replace the tires before their tread wear indicators become visible.
See also:
Driving on snowy and icy roads
WARNING Do not use the cruise control on slippery roads such as snowy or icy roads. This may cause loss of vehicle control. CAUTION Avoid prolonged continuous driving in snowstorms. Snow will ent ...
Interior
Passenger compartment area 1) Lower anchorages for child restraint system 2) Seatbelt 3) Parking brake lever 4) Front seat 5) Rear seat 1) Center console 2) Cup holder 3) Front power suppl ...
When there are CDs loaded (type B)
Disc select buttons Press a desired one of the disc select buttons the disc number indicator of which steadily lights up. The player will then start playback of the selected CD, beginning with the fi ...