Catalytic converter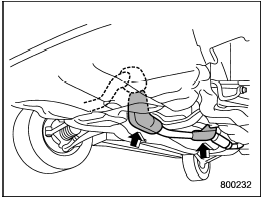 Turbo models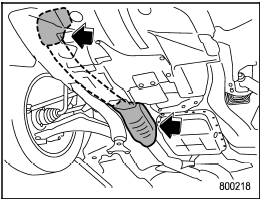 Non-turbo models
The catalytic converter is installed in the exhaust system. It serves as a catalyst to reduce HC, CO and NOx in exhaust gases, thus providing cleaner exhaust.
To avoid damage to the catalytic converter:
- Use only unleaded fuel. Even a small amount of leaded fuel will damage the catalytic converter.
- Never start the engine by pushing or pulling the vehicle.
- Avoid racing the engine.
- Never turn off the ignition switch while the vehicle is moving.
- Keep your engine tuned-up. If you feel the engine running rough (misfiring, backfiring or incomplete combustion), have your vehicle checked and repaired by an authorized SUBARU dealer.
- Do not apply undercoating or rust prevention treatment to the heat shield of catalytic converter and the exhaust system.
- Do not drive with an extremely low fuel level.

- Avoid fire hazards. Do not drive or park the vehicle anywhere near flammable materials (e.g., grass, paper, rags or leaves), because the catalytic converter operates at very high temperatures.
- Keep everyone and flammable materials away from the exhaust pipe while the engine is running.
The exhaust gas is very hot.
See also:
Side ventilators
1) Open 2) Close Move the tab to adjust the flow direction. To open the ventilator, turn the side grille open/close wheel upward to the "" position. To close it, turn the wheel downward to th ...
Heating
Heating To direct warm air toward the floor: 1. Set the air inlet selection button to the OFF position. 2. Set the airflow control dial to the "" position. 3. Set the temperature control ...
Selecting preset stations
Presetting a station with a preset button allows you to select that station in a single operation. Up to six AM, FM1, FM2 and FM3 stations each may be preset. ...