Temperature control dial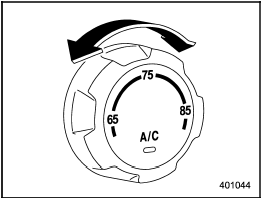 Temperature control dial
This dial is used to set the desired interior temperature. With the dial set to your desired temperature, the system automatically adjusts the temperature of air supplied from the outlets such that the desired temperature is achieved and maintained.
If the dial is turned fully counterclockwise, the system gives maximum cooling performance.
If the dial is turned fully clockwise, the system gives maximum heating performance.
See also:
Engine hood
To open the hood: 1. If the wiper blades are lifted off the windshield, return them to their original position. 2. Pull the hood release knob under the instrument panel. 3. Release the se ...
Seek in PTY (Program type) group (type A, B and C audio)
Type A and B audio: Type C audio: In the PTY selection mode, when the preferred PTY group has been selected, pressing the "SEEK" button "" or "" seeks within that PTY group. The control f ...
2.5 L turbo models
Your vehicle is equipped with "summer tires" as original equipment, which are inadequate for driving on slippery roads such as on snow-covered or icy roads. Compared with winter and all-season tir ...