Temperature control dial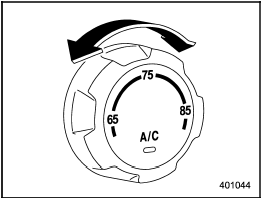 Temperature control dial
This dial is used to set the desired interior temperature. With the dial set to your desired temperature, the system automatically adjusts the temperature of air supplied from the outlets such that the desired temperature is achieved and maintained.
If the dial is turned fully counterclockwise, the system gives maximum cooling performance.
If the dial is turned fully clockwise, the system gives maximum heating performance.
See also:
Vehicle Dynamics Control system monitor
Refer to "Vehicle Dynamics Control operation indicator light" and "Vehicle Dynamics Control warning light/Vehicle Dynamics Control OFF indicator light/ Traction Control OFF indicator light (STI)". ...
Drugs and driving
There are some drugs (over the counter and prescription) that can delay your reaction time and impair your perception, judgment and attentiveness. If you drive after taking them, it may i ...
Use of engine braking
Remember to make use of engine braking in addition to foot braking. When descending a grade, if only the foot brake is used, the brakes may start working improperly because of brake fluid overheating, ...