START
The engine is started in this position. The starter cranks the engine to start it. When the key is released (after the engine has started), the key automatically returns to the "ON" position.

Do not turn the ignition switch to the "START" position while the engine is running.
If your registered key fails to start the engine, pull out the key once (the security indicator light will blink), and then insert the key in the ignition switch and turn it to the "START" position and again try to start the engine.
NOTE
The engine may not start in the following cases: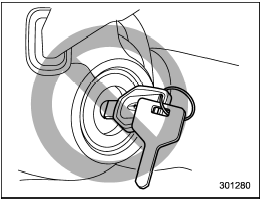 - The key grip is touching another key or a metallic key holder.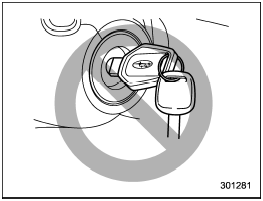 - The key is near another key that contains an immobilizer transponder.
- The key is near or touching another transmitter.
See also:
Coolant temperature low indicator light/Coolant temperature high warning light
CAUTION ● After turning the ignition switch to the "ON" position, if this indicator light/warning light behaves under any of the following conditions, the electrical system may be malfuncti ...
Activating and deactivating the alarm system
To change the setting of your vehicle's alarm system for activation or deactivation, do the following. 1. Disarm the alarm system. Refer to "Disarming the system" F2-18. 2. Sit in the driver's sea ...
Remote transmitter program
New transmitters can be programmed to the remote engine start system in the event that a transmitter is lost, stolen, damaged or additional transmitters are desired (the system will accept up to e ...