Bulb chart
NOTE
Lights A and B are the LED (Light Emitting Diode) type. Consult your SUBARU dealer for replacement.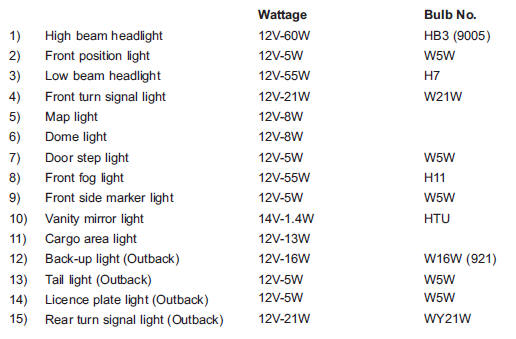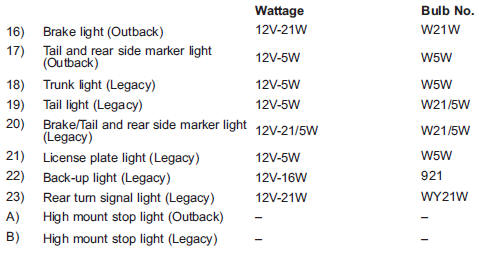 WARNING
Bulbs may become very hot while illuminated. Before replacing bulbs, turn off the lights and wait until the bulbs cool down. Otherwise, there is the risk of sustaining a burn injury.
CAUTION
Replace any bulb only with a new bulb of the specified wattage. Using a bulb of different wattage could result in a fire.
See also:
Jump starting
WARNING ● Battery fluid is SULFURIC ACID. Do not let it come in contact with the eyes, skin, clothing or the vehicle. If battery fluid gets on you, thoroughly flush the exposed area with wat ...
Armrest
To lower the armrest, pull on the top edge of the armrest. WARNING To avoid the possibility of serious injury, passengers must never be allowed to sit on the center armrest while the vehicle is ...
Rear center seating position
CAUTION The head restraint is not intended to be used at the lowest position. Before sitting on the seat, raise the head restraint to the extended position. A) When not used (retracted position) ...