Main fuse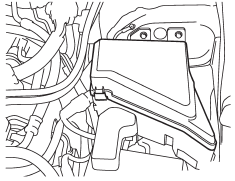 Main fuse box
The main fuses are designed to melt during an overload to prevent damage to the wiring harness and electrical equipment. Check the main fuses if any electrical component fails to operate (except the starter motor) and other fuses are good. A melted main fuse must be replaced. Use only replacements with the same specified rating as the melted main fuse. If a main fuse blows after it is replaced, have the electrical system checked by your nearest SUBARU dealer.
See also:
FM reception
Although FM is normally static free, reception can be affected by the surrounding area, atmospheric conditions, station strength and transmitter distance. Buildings or other obstructions may cause ...
Shopping bag hook
Do not hang items on the shopping bag hook that weigh 6 lbs (3 kg) or more. A shopping bag hook is attached to each side of the cargo area. ...
Driving when tired or sleepy
When you are tired or sleepy, your reaction time will be delayed and your perception, judgment and attentiveness will be impaired. If you drive when tired or sleepy, your, your passenger ...