Main fuse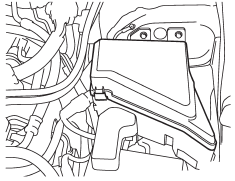 Main fuse box
The main fuses are designed to melt during an overload to prevent damage to the wiring harness and electrical equipment. Check the main fuses if any electrical component fails to operate (except the starter motor) and other fuses are good. A melted main fuse must be replaced. Use only replacements with the same specified rating as the melted main fuse. If a main fuse blows after it is replaced, have the electrical system checked by your nearest SUBARU dealer.
See also:
Repeating
Repeating is operated in the same way a CD is played. Refer to "Repeating". Each time you briefly press the button (type C audio)/ button (the "RPT" button) (type D audio), the mode chang ...
2011 Subaru Impreza WRX STi By Steven Cole Smith
Lost in the flashier news of the resurgence of Ford, General Motors and Chrysler -- and the fast-rising profile of Hyundai and Kia -- is the story of Subaru, the small Japanese company which has l ...
Pre-heating or pre-cooling the interior of the vehicle
Models with automatic climate control system: After the system starts the engine, the automatic climate control system will activate the "FULL AUTO" mode and heat or cool the interior to the predet ...