Tire rotation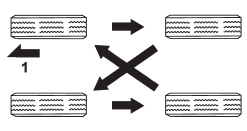 Vehicles equipped with 4 non-unidirectional tires
1) Front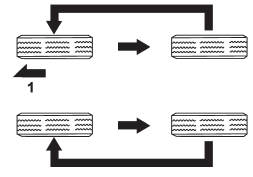 Vehicles equipped with unidirectional tires
1) Front
Tire wear varies from wheel to wheel. To maximize the life of each tire and ensure that the tires wear uniformly, it is best to rotate the tires every 7,500 miles (12,000 km). Move the tires to the positions shown in the applicable illustration each time they are rotated.
Replace any damaged or unevenly worn tire at the time of rotation. After tire rotation, adjust the tire pressures and make sure the wheel nuts are correctly tightened.
After driving approximately 600 miles (1,000 km), check the wheel nuts again and retighten any nut that has become loose.
See also:
Checking the oil level
1) Yellow handle 1. Park the vehicle on a level surface and stop the engine. 2. Pull out the level gauge, wipe it clean, and insert it again. 1) Upper level 2) Lower level 3. Pull out the lev ...
Activating and deactivating the alarm system
To change the setting of your vehicle's alarm system for activation or deactivation, do the following. 1. Disarm the alarm system. Refer to "Disarming the system". 2. Sit in the driver's seat ...
Erasing picture
1. Select the "Picture Erase" menu by operating the "TUNE/TRACK/CH" dial. For details, refer to "Audio settings (type D audio)". If no pictures are saved, "No Data" is displayed. Press the ...