Tire rotation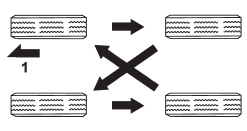 Vehicles equipped with 4 non-unidirectional tires
1) Front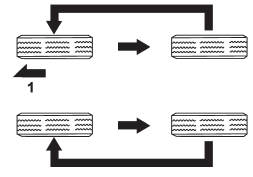 Vehicles equipped with unidirectional tires
1) Front
Tire wear varies from wheel to wheel. To maximize the life of each tire and ensure that the tires wear uniformly, it is best to rotate the tires every 7,500 miles (12,000 km). Move the tires to the positions shown in the applicable illustration each time they are rotated.
Replace any damaged or unevenly worn tire at the time of rotation. After tire rotation, adjust the tire pressures and make sure the wheel nuts are correctly tightened.
After driving approximately 600 miles (1,000 km), check the wheel nuts again and retighten any nut that has become loose.
See also:
State emission testing (U.S. only)
At state inspection time, remember to tell your inspection or service station in advance not to place your SUBARU AWD vehicle on a two-wheel dynamometer. Otherwise, serious transmission damag ...
Installing a rearward facing child restraint
1. Place the child restraint system in the rear seating position. 2. Run the lap and shoulder belt through or around the child restraint system following the instructions provided by its manufact ...
Jump starting
• Battery fluid is SULFURIC ACID. Do not let it come in contact with the eyes, skin, clothing or the vehicle. If battery fluid gets on you, thoroughly flush the exposed area with water immediate ...