Checking the oil level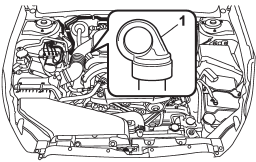 Non-turbo models
1) Yellow handle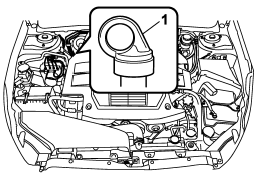 Turbo models
1) Yellow handle
Check the oil level monthly.
1. Park the vehicle on a level surface and stop the engine.
2. Pull out the level gauge, wipe it clean, and insert it again.

1) Upper level
2) Lower level
3. Pull out the level gauge again and check the oil level on it. If it is below the lower level, add oil through the level gauge hole to bring the level up to the upper level.
CAUTION
Be careful not to spill manual transmission oil when adding it. If oil touches the exhaust pipe, it may cause a bad smell, smoke, and/or a fire. If oil gets on the exhaust pipe, be sure to wipe it off.
See also:
Reclining the seatback (if equipped)
To prevent the passenger from sliding under the seatbelt in the event of a collision, always put the seatback in the upright position while the vehicle is in motion. Also, do not place ...
Models with Hands-free system
Press this button for more than 1.5 seconds if you wish to immediately cut the volume to zero. The audio display will show УMUTEФ. If you press the button for more than 1.5 seconds again, the ...
To open the moonroof
Pull the switch to the УOPENФ side and quickly release it to open the moonroof. The sun shade will also be opened together with the moonroof. The moonroof will stop at a position 20 in (50 cm) ...