Checking the oil level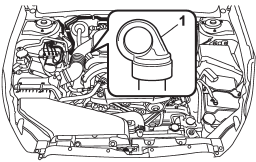 Non-turbo models
1) Yellow handle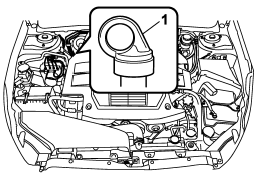 Turbo models
1) Yellow handle
Check the oil level monthly.
1. Park the vehicle on a level surface and stop the engine.
2. Pull out the level gauge, wipe it clean, and insert it again.

1) Upper level
2) Lower level
3. Pull out the level gauge again and check the oil level on it. If it is below the lower level, add oil through the level gauge hole to bring the level up to the upper level.
CAUTION
Be careful not to spill manual transmission oil when adding it. If oil touches the exhaust pipe, it may cause a bad smell, smoke, and/or a fire. If oil gets on the exhaust pipe, be sure to wipe it off.
See also:
Changing a flat tire
- Do not jack up the vehicle on an incline or a loose road surface. The jack can come out of the jacking point or sink into the ground and this can result in a severe accident. - Use onl ...
Security ID plate
1) Key number plate 2) Security ID plate The security ID is stamped on the security ID plate attached to the key set. Write down the security ID and keep it in another safe place, not in the vehic ...
SAFETY
Although the STi wasn't designed as a family car, all of the family-centric safety features on the Impreza sedan are in it. The STi has four-wheel-disc antilock brakes with brake assist, stability ...