Checking the oil level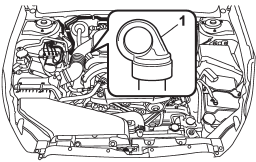 Non-turbo models
1) Yellow handle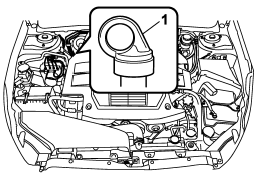 Turbo models
1) Yellow handle
Check the oil level monthly.
1. Park the vehicle on a level surface and stop the engine.
2. Pull out the level gauge, wipe it clean, and insert it again.

1) Upper level
2) Lower level
3. Pull out the level gauge again and check the oil level on it. If it is below the lower level, add oil through the level gauge hole to bring the level up to the upper level.
CAUTION
Be careful not to spill manual transmission oil when adding it. If oil touches the exhaust pipe, it may cause a bad smell, smoke, and/or a fire. If oil gets on the exhaust pipe, be sure to wipe it off.
See also:
Parking in cold weather
WARNING Snow can trap dangerous exhaust gases under your vehicle. Keep snow clear of the exhaust pipe and from around your vehicle if you park the vehicle in snow with the engine running. Do not ...
Vehicle Dynamics Control warning light/Vehicle Dynamics Control operation indicator light
The light illuminates when the ignition switch is turned to the "ON" position and turns off several seconds after the engine has started. This lighting pattern indicates that the Vehicle Dynamic ...
MT models
1. Apply the parking brake. 2. Turn off unnecessary lights and accessories. 3. Press the clutch pedal to the floor and shift the shift lever into neutral. Hold the clutch pedal to the floor whil ...