Checking the oil level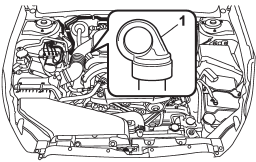 Non-turbo models
1) Yellow handle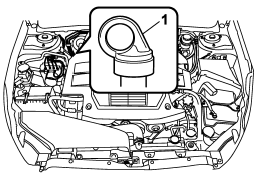 Turbo models
1) Yellow handle
Check the oil level monthly.
1. Park the vehicle on a level surface and stop the engine.
2. Pull out the level gauge, wipe it clean, and insert it again.

1) Upper level
2) Lower level
3. Pull out the level gauge again and check the oil level on it. If it is below the lower level, add oil through the level gauge hole to bring the level up to the upper level.
CAUTION
Be careful not to spill manual transmission oil when adding it. If oil touches the exhaust pipe, it may cause a bad smell, smoke, and/or a fire. If oil gets on the exhaust pipe, be sure to wipe it off.
See also:
Deleting device
1. Select the "DELETE AUDIO" (type C audio)/"Delete Audio Player" (type D audio) menu. If no devices are registered, "EMPTY" is displayed and the mode changes to the Bluetooth® audio setting ...
Sirius satellite radio
Sirius satellite radio is a recent innovation that allows the listener to experience digital sound quality and to have a greater variety of channels. Use of satellite radio (Sirius) requires a tuner, ...
Driving on grades
● Before going down a steep hill, slow down and shift into lower gear (if necessary, use 1st gear) in order to utilize the overheating of your vehicle's brakes. Do not make sudden downshifts ...