Checking the oil level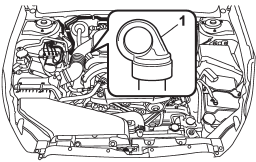 Non-turbo models
1) Yellow handle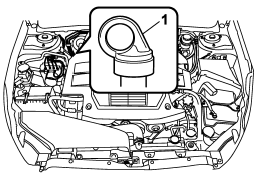 Turbo models
1) Yellow handle
Check the oil level monthly.
1. Park the vehicle on a level surface and stop the engine.
2. Pull out the level gauge, wipe it clean, and insert it again.

1) Upper level
2) Lower level
3. Pull out the level gauge again and check the oil level on it. If it is below the lower level, add oil through the level gauge hole to bring the level up to the upper level.
CAUTION
Be careful not to spill manual transmission oil when adding it. If oil touches the exhaust pipe, it may cause a bad smell, smoke, and/or a fire. If oil gets on the exhaust pipe, be sure to wipe it off.
See also:
Windshield wiper blade assembly
1. Raise the wiper arm off the windshield. 1) Open the cover 2) Pull down the wiper blade 2. Remove the wiper blade assembly by opening the cover and pulling it down in the direction shown in t ...
Checking the fluid level when the fluid is hot
1. Drive the vehicle several miles to raise the temperature of the transmission fluid up to normal operating temperature; 158 to 1768F (70 to 808C) is normal. 2. Park the vehicle on a level surface a ...
Defogger and deicer
1) Rear window defogger 2) Outside mirror defogger (if equipped) 3) Windshield wiper deicer (if equipped) The vehicle is equipped with a rear window defogger. Some models are also equipped with ...